---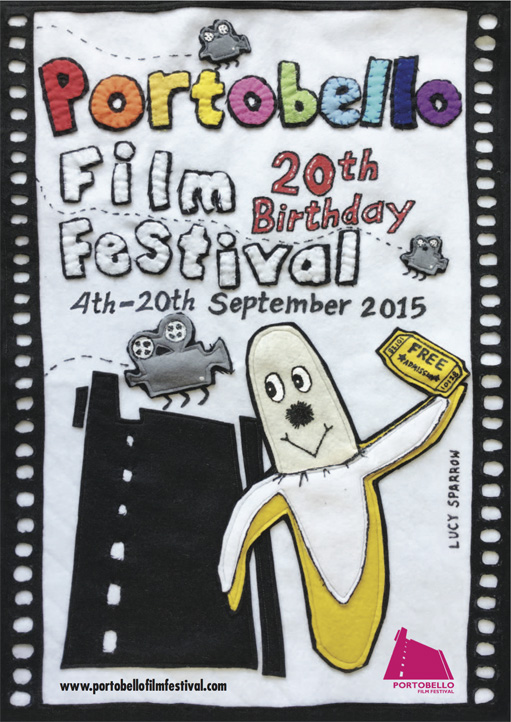 http://www.portobellofilmfestival.com/

Tee's and Cee's, the creative duo behind the 'We Love The 90's Film Fest' are excited to announce the second annual 'Halloween Movie Mash-up Weekend', a three day fright fest dedicated to celebrating the best in classic and musical comedy horrors.

From Friday 31st October to Sunday 2nd November, 'The Halloween Movie Mash-up Weekend' will play host to a spookily spectacular cinematic experience featuring sing-a-longs, fabulously frightening 'dressing up' boxes and traditional Halloween activities such as Pumpkin carving, apple bobbing and trick or treating, providing a Halloween weekend experience with a difference.

Cult classic 'The Lost Boys' starring 80′s teen heartthrobs Corey Haim and Corey Feldman and Stanley Kubricks chilling 'The Shining', will be screened alongside the delightful musical comedy horror 'Little Shop of Horrors' starring Emmy award winning comedians Steve Martin, John Belushi, Bill Murray and John Candy.

This years 'Halloween Movie Mash-up Weekend' see's the launch of an exciting partnership with London's premier Caribbean burger joint 'Boom Burger', offering guests the chance to sample the Jamaican eateries finest dishes such as the Signature 'Boom Burger' with its irresistible Jerk Bacon Jam, all from the comfort of their cinema seat.
'The Halloween Movie Mash-up Weekend' begins on Friday 31st October from 6pm, selected films and activities include:

Friday 31st October – The Lost Boys (1987)
Saturday 1st November – The Shining (1980)
Sunday 2nd November – Little Shop of Horrors (1986): Sing-a-long
On the 19th of October 2014, C4K have organised a charity evening in Notting Hill at the Portobello pop up cinema.
It is a free event with a wonderful program that includes an exclusive film screening a seminar, silent art auction, songs and poetry. 
Please find attached the program for further details.


---

Psychological Effects of Genocide seminar: with Mohammed Haider MA, Dr Shko Shorsh and Professor Brian Brivati
Art Exhibition by Dr Osman's 'Documenting the Anfal Genocide Through Drawing': Drawings from direct interviews with survivors of the genocide
Silent Art Auction: Painters from Kurdistan and Britain have donated works to go towards the total amount raised on the evening
Exclusive film screening 'A Kurdish Winter': Stories from the Al-Anfal genocide told from the mouths of those who experienced it.
Songs & Poetry: A variety of acts will perform melancholic Kurdish songs and spoken word poetry in English.
Free Admission (Suggested donation of £5)
All proceeds from donations and auction will go towards the charities: Rwanga Foundation and the Kurdish Red Moon (Heyva Sor A Kurdistane)
Over the last few months we have watched the unfolding brutality of the Islamic State (IS). Compassion 4 Kurdistan a local charity group organized by volunteers and philanthropists from the Kurdish diaspora have decided to do something about the ongoing desperate situation the Kurds are once again facing during these unsettled times.
Compassion 4 Kurdistan, are descended from the genocides atrocities of Halabja and Anfal. Our motives are to raise awareness to the plight of the Kurdish people, to distribute aid and logistical support and to try with our utmost determination to prevent another genocide occurring to the Kurdish peoples. The Kurds are people who believe in equality and freedom and have long supported the Western states and the prosperity of peace, human rights and democracy. Furthermore The Kurds have a history of granting equal rights to all genders. Women have and still are representing Kurdish politics and serve in The Kurdish army and militias side by side with their male counterparts in all ranks. This distinguishes the Kurdish people from all other Muslim nations surrounding them. Just remember that the IS are totalitarian in their approach and consider all acts outside their interpretation of sharia to be harshly dealt often with public execution.
IS are an extremely dangerous organization and their attempt to enter into Kurdish held regions will not be the end; they are a global threat to the West and we feel that as two British nationals with Kurdish heritage living in a free, democratic and war free country, we have an obligation to support on all levels possible.
---

Revision 2014 present 3 Days of Amazing Films at the Pop Up!



Thurs 25th Sep – Australian First Nations Double Bill ~ The Secret Country: The First Australians Fight Back (1985) & Utopia (2013)
- Enterprising young people will be running the refreshments stall to raise funds for a half term activity trip with their youth group. Please come unrefreshed


Fri 26th Sep – Ken Fero's Po Po (2013) and Burn (2014) plus Q&A with Carole Duggan, Myrna Simpson and Ken Fero
- All profits will go to the Justice4Mark and UFFC campaigns

Sat 27th Sep – Red Ant Dream (2013) Followed by a Q&A with Dr Dibyesh Anand and Special Guests plus spoken word Open Mic hosted by Shareefa Energy
Doors open 7pm for all programs
£5 Entry
---
---
The 2014 Portobello Film Festival 29th August – 14th September
"Forget the red carpet, Portobello Film Festival is the place to spot bright young things and the edgiest of stars" – London Town.com

The Portobello Film Festival has screened brand new, hot, independent movies from the UK and all over the world in various, unusual venues around Portobello Road for the past 19 years. Admission has always been free and the Festival does it's best to show as many of the films submitted as possible.
The film festival was created in 1996 as a reaction to the moribund state of the British film industry, to provide a forum for new film makes and also give exposure to movies on different formats. Many of our previously, out-on-a-limb directors, like Guy Ritchie and Sarah Gavron have since been recognised by the big fish in the industry.
The festival has been dubbed – "The wild side of Brit Film" – The Metro "The biggest celebration of independent film in Europe" – The Independent "London's biggest filmic free-for-all" – Time Out "London's best loved film festival" – Creative Week
The Portobello Film Festival shows tomorrow's films today, and it is evident that the number of ideas presented here then go on to regularly crop up in the mainstream cinema.
---
Chernoh Alpha M Bah Book Tour
 Portobello Pop Up Cinema on Wednesday 13 August 2014…
ENTRY FREE (DONATIONS gratefully accepted) Join us in this unique community Cinema space under the Westway Flyover, Portobello Road for an evening with Chairman of the African Socialist Movement (ASM), Chernoh Alpha M. Bah as part of his World Book Tour to launch his new publication, Neocolonialism in West Africa. In Neocolonialism in West Africa, author Chernoh Alpha M. Bah, a journalist and political activist in Sierra Leone, demonstrates that imperial powers continue to exploit West Africa. Throughout this collection of essays and articles, he provides practical answers to the root causes of poverty, conflict, and political instability.
ENTRY FREE (DONATIONS gratefully accepted)
---
We Love the Nineties!… at the Pop Up!
July 25th – August 3rd 2014
Tee's and Cee's are excited to announce the return of the second annual 'We Love The 90's Film Fest', an outdoor film experience screening a selection of much loved classic and cult 90's films at the Portobello Pop-up Cinema in London. Split over two weekends from Friday 25th July – Sunday 3rd August, the 'We Love The 90's Film Fest' continues to offer guests the best in 90's cinema with each night hosted by a different London creative, presenting a selection of films that offer insight into their personal and professional achievements. This year see's five of the capitals finest join the 'We Love The 90's Film Fest' family; Ayishat Akanbi (celebrity stylist to artists such as Labrinth and JLS), DJ Turkish (Producer, A&R and DJ who was instrumental in the launch of Kanye West, Rihanna, and Destiny's Child in the UK) Femi Oyeniran (a London-based Actor who has starred in hit films including Kidulthood, Adulthood, 4,3,2,1 and Anuvahood), Bangs and a Bun (Editor of Bangs and a Bun and Spikes and Heels) and Mr Dash (Bespoke Tailor and frequent Street Style photographer favourite), all bringing pure unadulterated 90's flavour in the form of a stellar film line-up that includes; the side splitting urban comedy Friday, cult classic Muriel's Wedding and the mighty Goodfella's. This year also see's the launch of an exclusive partnership with London's hottest Caribbean burger joint 'Boom Burger', offering guests the chance to sample the Jamaican eateries finest dishes such as the Signature 'Boom Burger' with its irresistible Jerk Bacon Jam, crispy 'Plantain Fries' and fiery 'Boom Jerk Wings', all from the comfort of their cinema seat. The six day 'We Love The 90's Film Fest' will begin on Friday 25th July from 7pm, hosts and selected films include: ● Friday 25th July – Femi Oyeniran Presents 'Boyz N The Hood' ● Saturday 26th July – Mr Dash Presents 'Pulp Fiction' ● Sunday 27th July – Ayishat Akanbi Presents 'Higher Learning' ● Friday 1st August – DJ Turkish Presents 'Friday' ● Saturday 2nd August – Bangs & A Bun Presents 'Goodfellas' ● Sunday 3rd August – We Love the 90's Presents 'Muriel's Wedding' Tickets are £5 per person and include seating and blankets. As well as the delicious hot food on offer from Boom Burger; classic cinema snacks and drinks will also be available to purchase, providing the perfect accompaniment to this 90's cinema experience.
---
InTransit Arts Festival
London Kurdish Film Festival presents UK Premiere of 'I Flew You Stayed/ Ez Firiyam Tu Ma Li Cih' at InTRANSIT Festival 2014.
---
CELEBRATION SCREENING of 'Rio 50º / Carry On CaRIOca' (2014).
Come and see for the first time on the big screen this film X-ray of the noir soul of this carnival city. Event is also Free (via this invite, please share). 

Temple's latest extraordinary film explores Rio's explosive journey from the end of slavery to the staging of the World Cup, taking us on a time travelling rollercoaster ride through a series of incendiary highs and truly terrifying lows. Rio as never seen before. Q&A follows, not to be missed! Please join us for this special one- Celebration of all things Rio (plus bar… & abit of a party for Julien too)  Free Admission.
---
InTransit Arts Festival at the POp up!
As part of RBK&C's InTransit Arts Festival, Portobello Film Festival Presents an evening of free World Cinema featuring some highlights from Portobello Film Festival 2014.

http://www.rbkc.gov.uk/subsites/intransit/what/portobellofilmfestival.aspx 

Full programme: Douglas Adams Eat Your Heart Out David Ridley 7 minutes 12A When Douglas Adams hit puberty his childhood love of space is challenged by his new found interest in women. Which one will win? Breasts or the moon? Comedy Australia Hermeneutics Alexi Duitriev 3 minutes 12 A war film Experimental Russia Second Wind Sergey Tsyss 7 minutes U The last performance on the Earth. Drama Russia You Can't Win (No Gano) Jorge Torres-Torres 12 minutes 12A A typical night at the cockfight in the island of Puerto Rico. Documentary USA The Red Carpet (La Alfombra Roja) Manuel Fernandez & Iosu Lopez 12 minutes U 158 million people live in the Indian slums under extremely insalubrious conditions. Millions of children play surrounded by rubbish, cows, rats and excrement. Garib Nagar slum in the Bandra district (Bombay) is Rubina's home, a 12-year old girl who aims to become an actress and change the slum into a cleaner and more habitable place. Documentary Spain The Diver Damon Mohl .14 minutes U The strange life of a plastic toy diver. Fantasy USA La Luz Del Mundo (The light Of The World) Fernando J. Martinez & Alfonso Garcia 17 minutes 12A The future. Humankind lives in unground cities, where sense of sight has been lost, being forgotten it ever existed. When some people start to get it back they are accused by the government of being sick, and return to the cities outdoor where once lived the human race, finding a dormant threat that has been hidden for generations. Science Fiction Spain The Last Cry Of the Dragon Jamil Hendi 32 minutes 12A Tomas comes home from work but his neighbour Amza, was screaming all day long, so he must pay him a visit. Drama Romania On The Beach Marie-Elsa Sguaido 15 minutes 12 It's summer but life remains very complicated for 15-year-old Sara. Together with her little brother, she has been sent to spend the holidays at her mother's. Thankfully there's the beach and the boys. If only they could let her do as she wants Drama Switzerland The Parakeets (Les Perruches) Julie Voisin 14 minutes U Lili is a seriously ill young woman. The imagination of her friend Laura is going to change the course of a day, which had begun badly. Drama France Monsters Do Not Exist Paul Urkijo 10 minutes 15 Nai is a child who lives in Phonm Penh, Cambodia. Recently, he is having nightmares about the Yeak, a Khmer monster that eats naughty children. Michael, his English teacher at school, tells him that monsters don't exist. he assures him that they are just children's fantasies. The truth, however, is very different. Drama Spain Voice Over Martin Rosete 10 minutes 12A I-won't-tell-you-whose voice over guides us through three extreme situations, which are actually the same. Will you survive? Sc-Fi Drama Spain Beerbug Ander Mendia 8 minutes 12 Joe, who is busy running an old roadside petrol station, decides to take a break and have a beer. His efforts at enjoying his beer fail because someone is robbing him right under his nose. Animation Spain Reverie Valentin Gagarin, Shujun Wong, and Robert Wincierz 13 minutes 12A An inconspicuous citizen on the way to work is torn out of his daily routine when he witnesses a rail suicide. The event haunts him in his imagination and mixes rapidly with his own reality of social downfall in a cascade of surreal nightmare. Animation Germany First Steps (Premiers Pas) Gregory Lecocq 18 minutes 15 Lea is about to give birth. She planned everything to get rid of the child. But when the "thing" becomes a being of flesh and blood, everything is quickly challenged. Drama Belgium Achttausend (Eight thousand) Simon-Niklas Scheuring 19 minutes 12 Jens and his girlfriend Nessi live in a run-down cellar flat. One night when he comes home with his face beaten bloody, both of them are aware that they have no more money and they start to argue. Drama Germany 1 Minus 1 Equals 0 (1 Minus 1 b Leich 0) Sylvania Pen 12 minutes 15 "1 Minus 1 Equals 0" shows us the reflected thoughts of a young woman, who is at the mercy of her inner emotional chaos − looking back at a time of inner conflict between her heart and ego, illusions and reality. Drama Germany Once Upon A Time In The Country Ricardo Machado 10 minutes 15 A bizarre and dangerous love triangle. A woman and a man are caught in the act. Will it be a case of washing honour with blood? Drama Portugal The Five Stages Of A One-Night Stand Brandon Buczek 4 minutes 15 A woman goes through the five stages of grief when she is called the wrong name during a one-night stand. Comedy USA
Breaking News!

The existence of our beloved Pop Up Cinema is under threat as a result of unpresidented Rates Bill of £26,000!

The Westway trust which manages the land, and the Cinema is a Not For Profit social enterprise run by volunteers. This hugh bill could cause the immediate closure of the Cinema and the Aclam village.

Project director Tim Burke said  'It's desperately sad that our temporary art projects might now be rated. I cannot name a Pop Up that generates such an income as to pay 25,000 in rates. We pay no rent and last year we supported the muched loved Portobello Film Festival, the Kurdish Film Festival and gave the cinema to any number of Independent film festivals and community screenings. This situation has not changed yet but everyone

Is working hard and remains hopeful'.

UNDER REVIEW!